5 photo locations without hiking in the Dolomites: The most beautiful mountain range in the world – that is how the Dolomites are often decribed. Nowhere else in the Alpine region are the peaks more rugged, nowhere else is access to these regions so comparatively easy. With this article we wish to share with you five of the easiest to reach exceptional photo spots in the Dolomites. Get to know the famous Insta-locations that do not involve mountaineering. You will also get the main photography and travel tips for your Italian mountain adventure.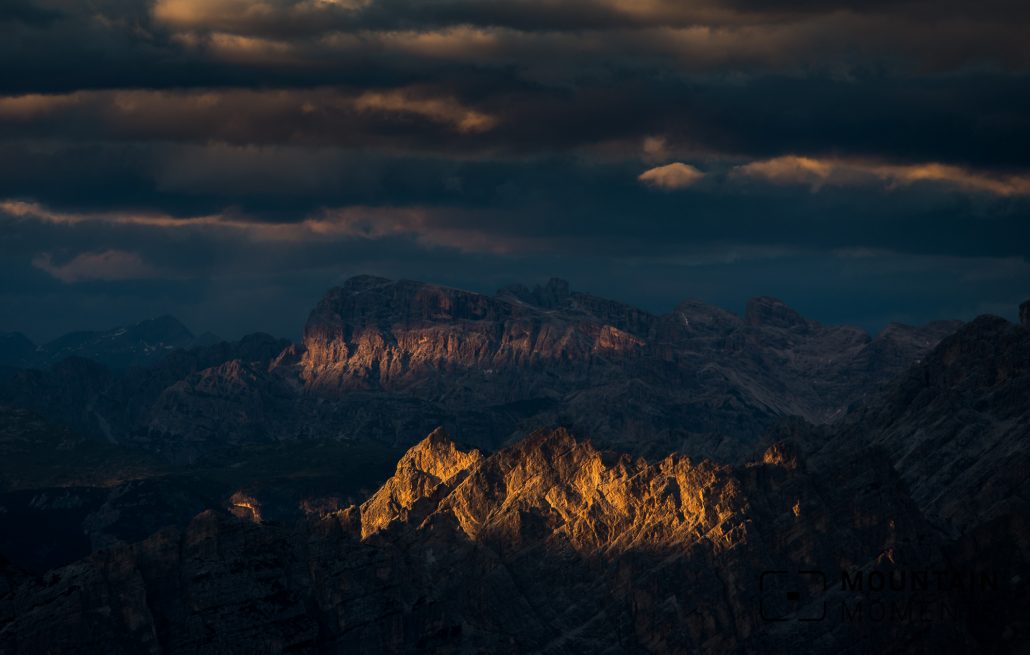 The Dolomites are rich with iconic spots and widely known locations, which are particularly suitable for photography. Enjoy our most favourite instagramable photo locations – no hiking involved. On these spots you can easily start photographing straight from the parking or bus stop and get creative. On all these spots you do not need a car to reach them. Local busses will bring you right to the best spot in no time.
THE MOST BEAUTIFUL PHOTO LOCATIONS WHIthout HIKING IN THE DOLOMITES
St. Magdalena Church
Pragser Wildsee / Lago di Braies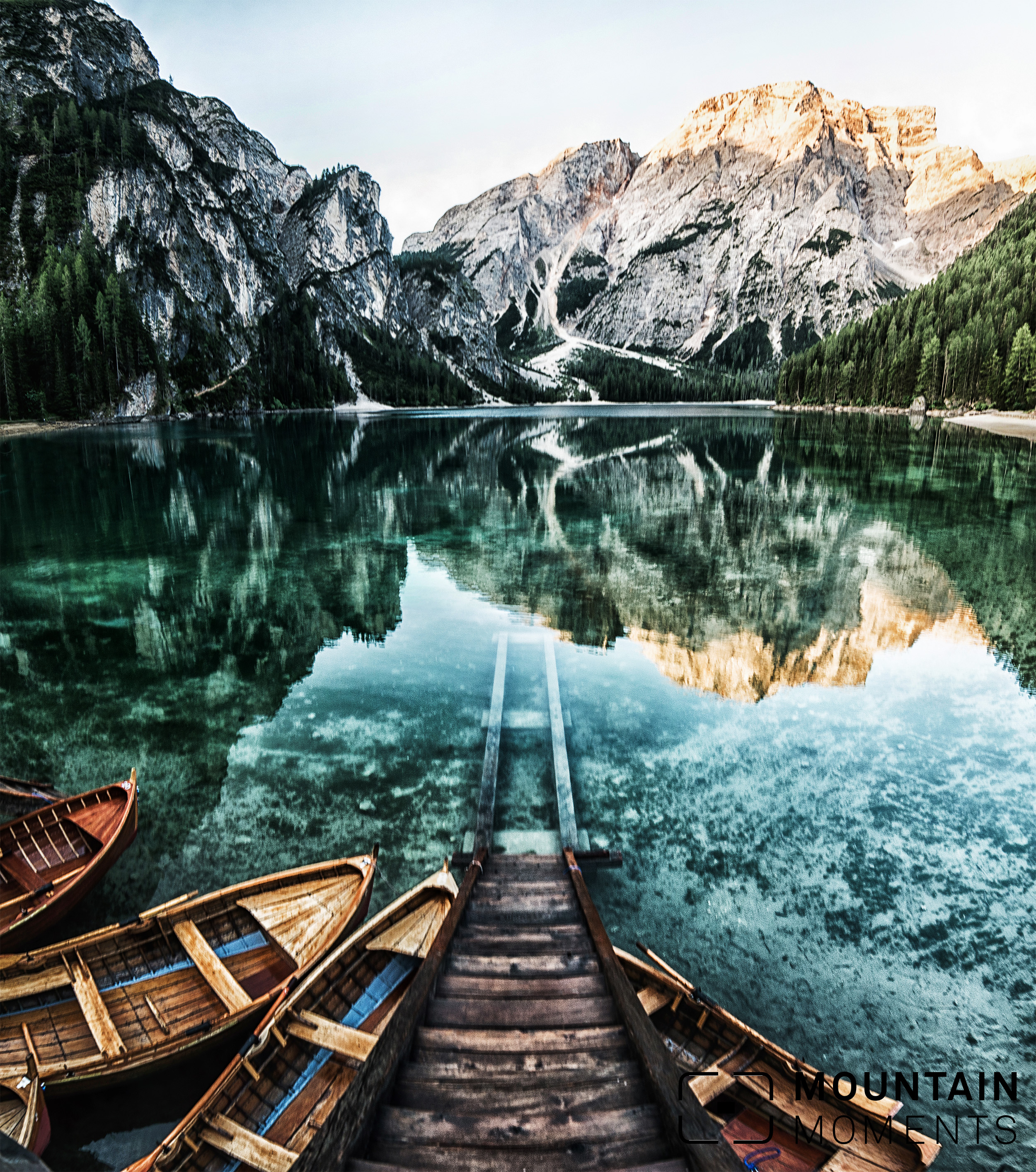 If you are not comfortable with heading out on your own, Mountain Moments offers photography workshops in the Dolomites. Whether you are a pro hiker or amatuer nature enthusiast, our experienced guides will make sure you do not leave without some great compositions to wow your instagram followers. Have a look at our current course dates and learn how to take better pictures directly from the professionals. On a group tour you will get to know other photographers on a private hiking tour we can fit perfectly to your travelling schedule on your Dolomites trip.
Cinque Torri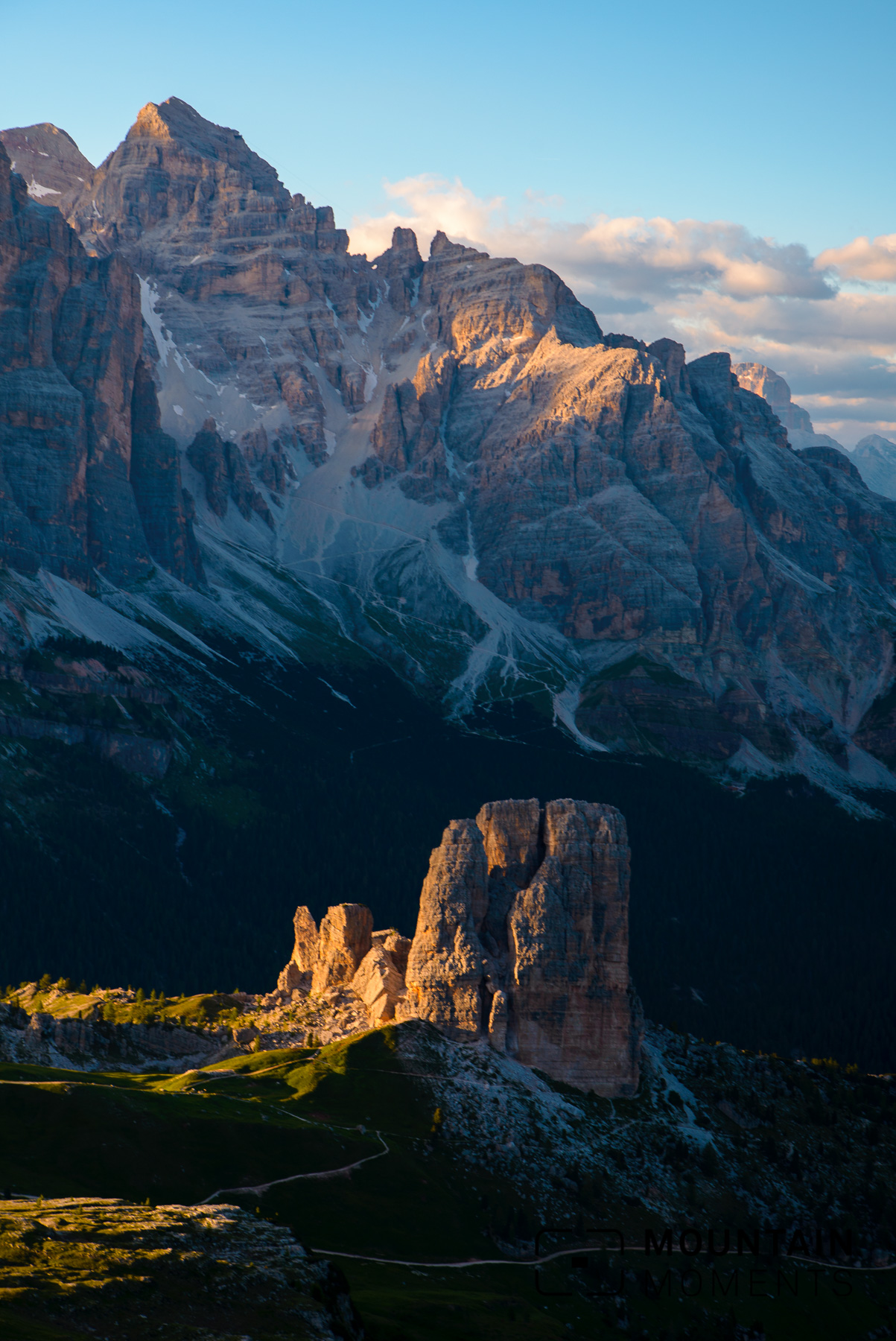 Form Falzarego pass to the Cinque torri is an easy hike. You will need roughly 1.5hours walking or 10minutes via the lift.
Karere lake/ Lago di Carezza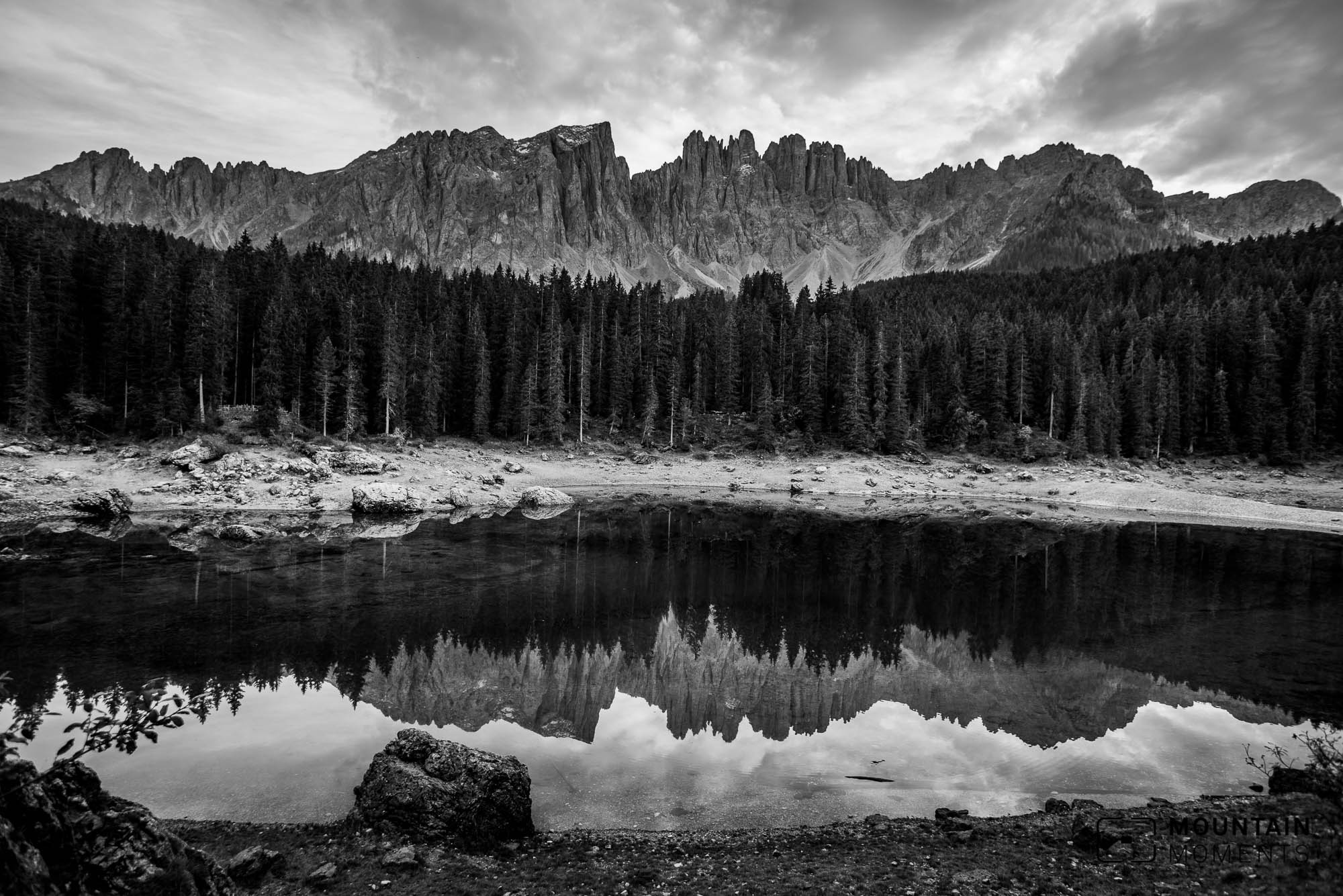 Lago di Carezza is a classic photo location in the Dolomites. It's directly at a bus stop and near the road, so you basically cannot miss it. Parking next to the lake is available.
Seiser alpine pasture and the beautiful Langkofel and Plattkofel mountains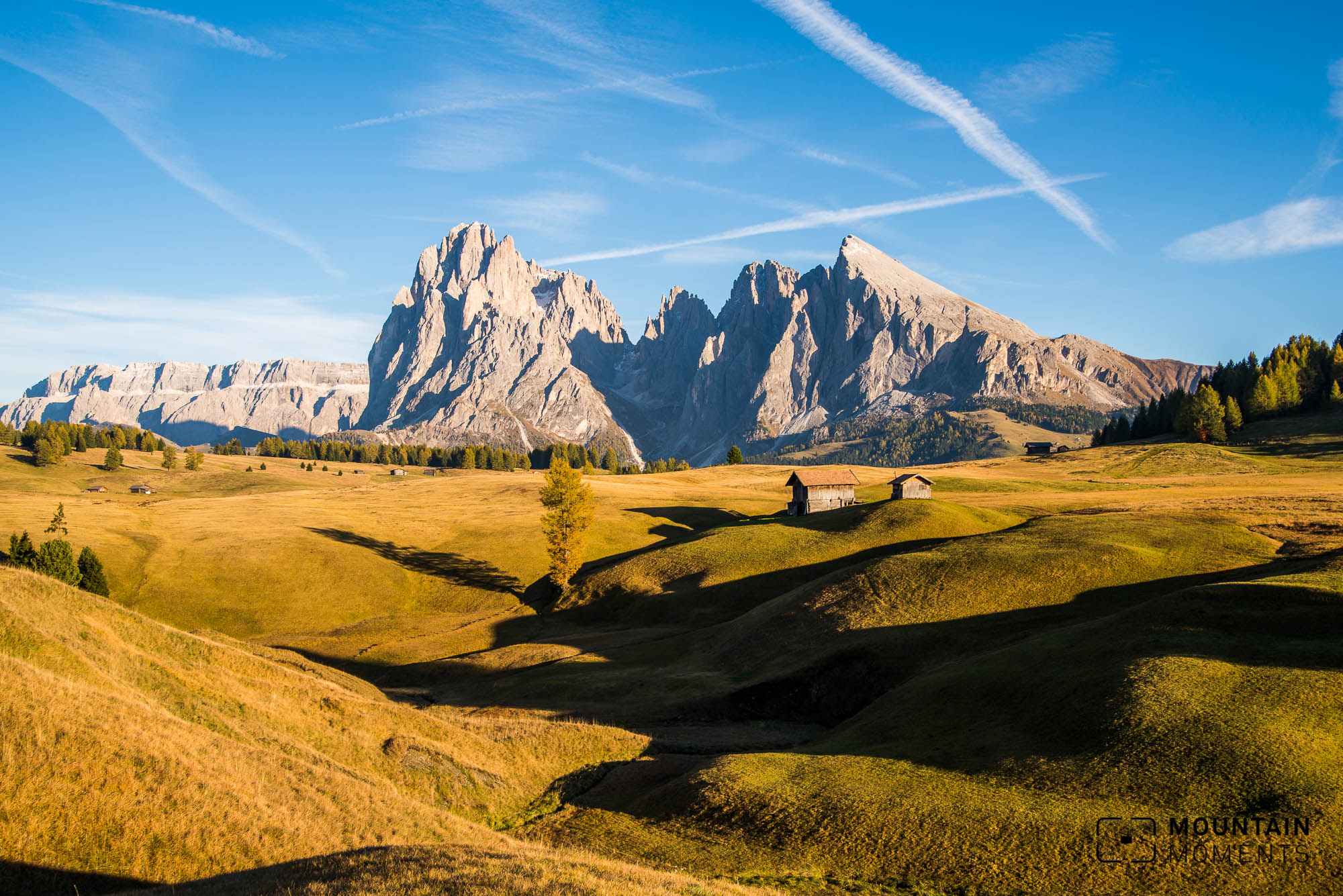 TIPS FOR PHOTOGRAPHICAL VENTURING INTO THE DOLOMITES
Preparation
The Dolomites are a rather confusing and highly articulated mountain range with many valleys and passes. It is easy to get lost here, so Many spend their precious holiday time in the car trying to see everything. We recommend that you concentrate on one or two mountain massifs in a week, with perhaps three or four Alpine passes to reduce the time spent in the car and increase the time spent in nature and for photography.
Arrival/Mobility
Due to their steepness in some parts, the Dolomites can be difficult to access, this has however not stopped people from settling here. There are many roads winding and meandering through out the dolomites – for example, you can circle the Sella massif over 4 different passes in only one day. These roads are also very popular for cycling and Motorbiking. On practically all routes, there are regular public buses. They stop at most of the important points and hikes, and are also quite inexpensive.
Overnight stay
The entire region of South Tyrol relies heavily on tourism and so the range of different accommodations available is correspondingly high. From rustic and difficult to access mountain huts to luxury hotels, there is plenty of accommodation. Overnight stays in cars and camping busses are not tolerated in many places, the further outside the hotspots you are, the more likely it is that you will be able to do so if you behave appropriately.
Climate/travel time
The Dolomites are worth a visit all year round. However, it is better to avoid the main season in summer during July and August – especially around August 15th. The mountain passes are especially overpopulated by motorcycles around this time, even at night. Convenient times for photographers to travel are June and early October.
Equipment
By definition, photo hiking has to do with people in motion, especially in the mountains where you have to conquer many meters of altitude. For day trips we recommend a camera body plus 1-3 lenses, depending on your mood. Zoom lenses with about 18-55 mm(about 25-70 with full format) and 70-200 mm used especially often. Those who like to have a wide angle can add an ultra wide lens of 10-15mm. For trips lasting several days, a tripod can be useful (whoever wants to carry it), as well as several batteries and memory cards.
Hiking
Excellently marked hiking trails and paths are found almost everywhere in the Alps. Hiking maps are posted free of charge at almost every hut and if you don't want to carry them around with you, you can always just take pictures of them with your mobile phone. The maps can also be found in Tobacco shops for example, and are quite up-to-date, clearly arranged and inexpensive. Photographers usually combine an easy ascent by car, bus or gondola with a days hike and then spend the night in a mountain hut. The surrounding alpine terrain is relatively easy to access, with the most photographically exciting times occurring around sunrise and sunset. Please take note that it can get very hot during the day here and that thunderstorms can be sudden and powerful. On many high alpine routes, access to water is often very limited and the sun burns mercilessly into the characteristic stone deserts. It is therefore in a photographer's best interests to carrying sufficient drinking water, keep an eye on the weather and plan accordingly.
Have you read our tutorial on mountain photography yet? If you would like to learn how to take such pictures, you will find some tips there to assist you in capturing a great composition.
DOLOMITES – PHOTOGRAPHIC DISCOVERY WHILE HIKING
We invite you to join us on one of our group photo tours through the Dolomites so please dont hesitate to check out the offers on our website. You can of course go exploring on your own if you wish. If you want the most out of your photo trip in the Dolomites, we would love to welcome you on a private photo tour and show you not only the best photo spots but also our most favourite easy hikes and best places for food. Come and enjoy the perfect alpine glow with us at these impressive locations.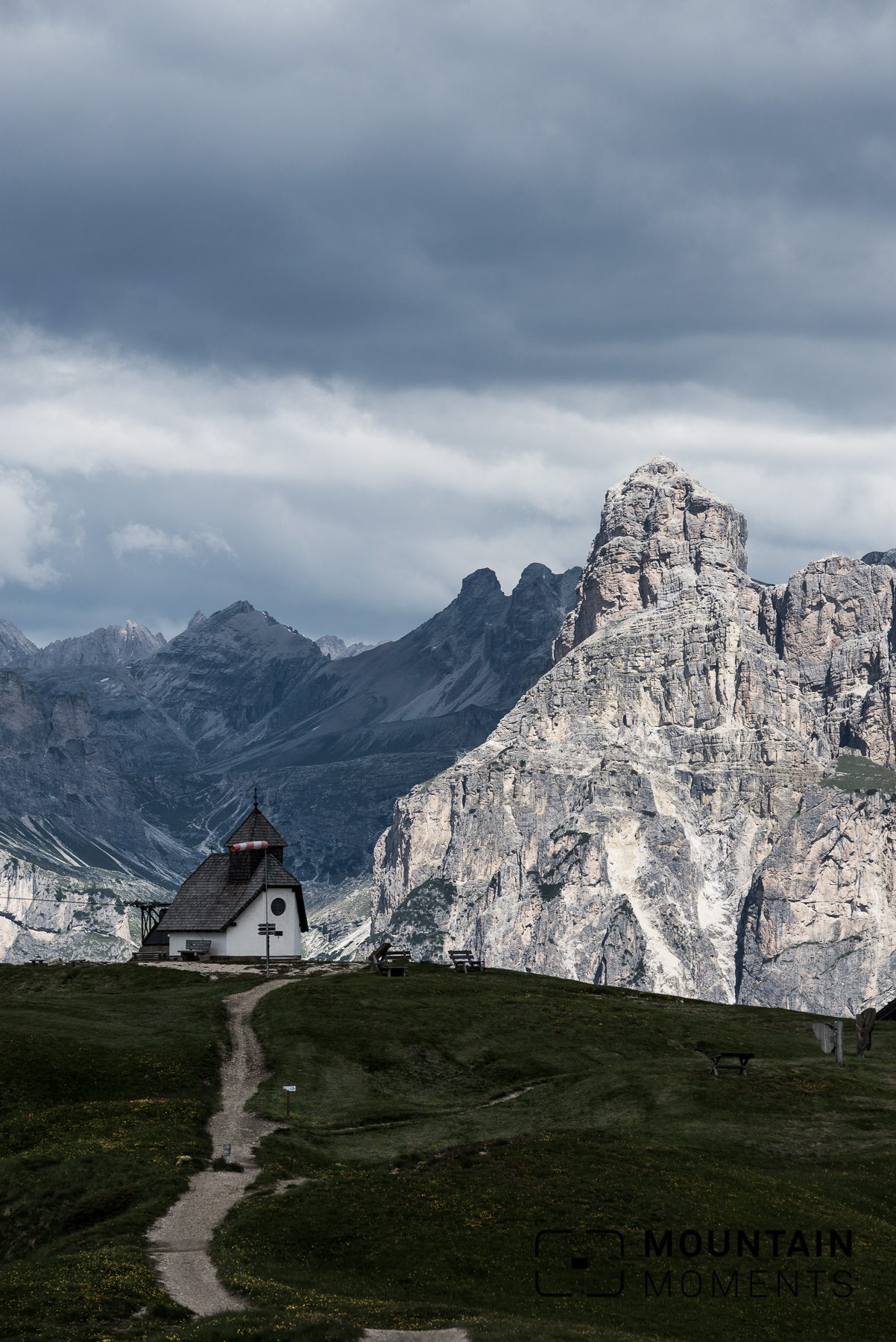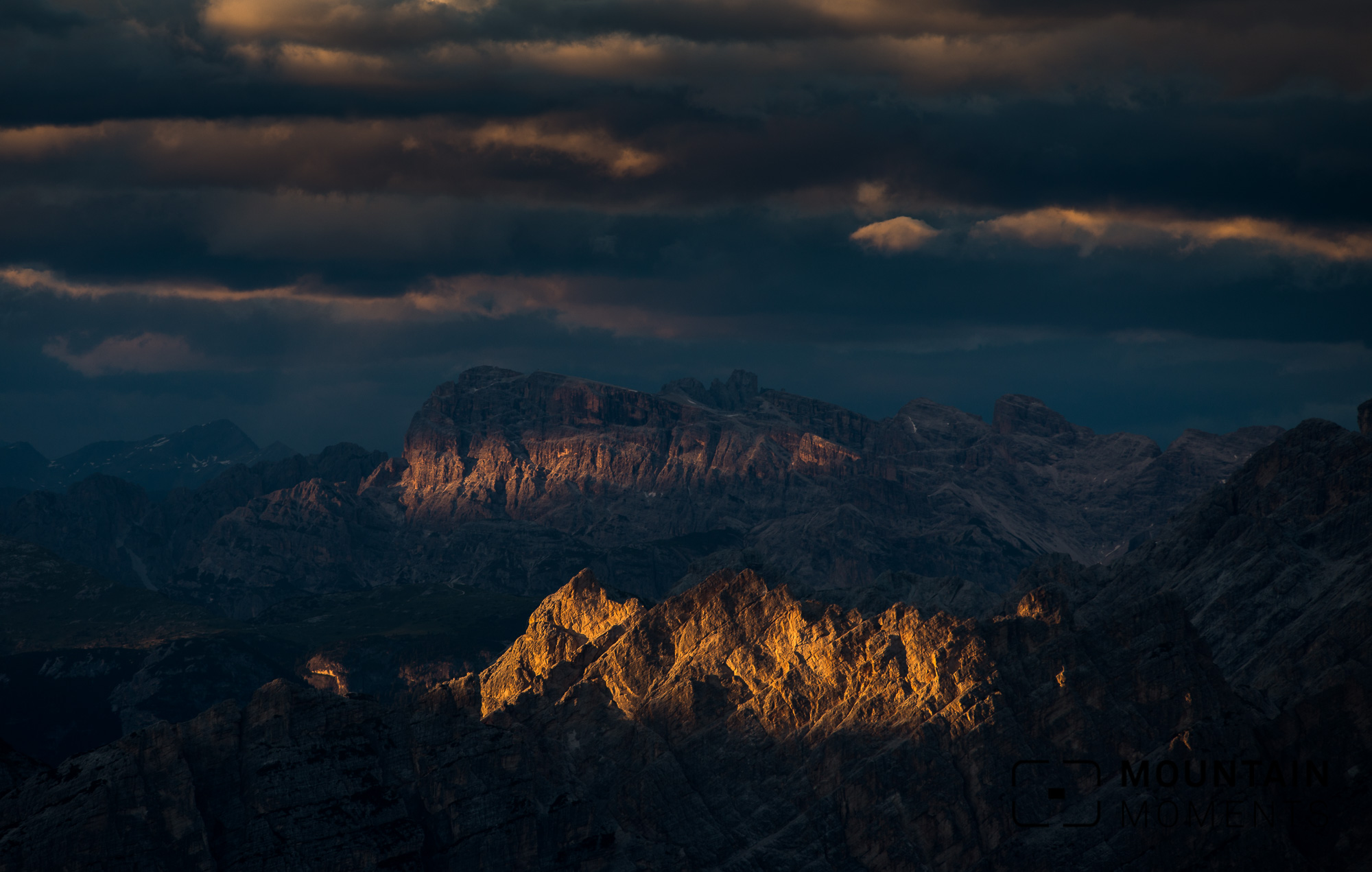 Hi, i am Marius, i love exploring the mountains and nature. Friends say, i know the mountains better than most locals, but actually i get lost all the time while photographing ;). Read more about the Mountain Moments Team.
https://www.mountainmoments.com/wp-content/uploads/2020/07/web_mountainmoments-5318.jpg
1316
2000
Marius
https://mountainmoments.com/wp-content/uploads/2019/06/mm-logo-340-pix-300x138.png
Marius
2020-09-24 14:14:52
2020-09-24 14:39:37
5 Easy to reach instagramable Photography Hikes in the Dolomites: Local tips for travel and photography