This article covers a case study about the value of photography in Social Media for Content Marketing. We had the question from clients and ourselves, if hiring a photographer for Social Media is worth the investment. And if so, how much should you spend on a photographer for Social Media Pictures.
Waht we did: We compared likes for a picture with the average price of a like for a Facebook ad. We discovered two interesting findings, which might help you save advertising spendings and succeed with Content Marketing.
I often had a certain feeling for the value in my pictures being used by clients. But I never was able to really address this perceived value with several hundred or dozens of likes for a picture on Facebook or Instagram or elsewhere.
Meanwhile marketeers are spending trillions on online ads. The better the pictures, the better the ROI.
As economist (not necessarily pround of it, but i liked studying at university) i somewhat have a drive for numbers. So why not compare Facebook Ad costs with native Facebook posts and the number of likes those pictures received?
About the author
Hi, i am Marius, founder of Mountain Moments and mountain lover. Get to know the team and me.
Content Marketing through photography (Case Study): Main Findings
We found, that a typical photo shoot with 20 pictures used on Facebook from a client (75.000 Facebook fans) delivered a value of roughly 4000 Euro in Europe compared with average Cost-per-Like metrics.
Comparing with other photographs used by the same company we found that pictures from Mountain Moments delivered roughly double the value of a typical advertising photoshoot and 40-times more value than pictures from amateur photographers. (other photographers can acheive the same, more further down)
I often had a certain feeling for the value in my pictures being used by clients. But I never was able to really address this perceived value with several hundred or dozen likes for a picture on Facebook or Instagram.
As economist i somewhat have a drive for numbers. So why not compare Facebook Ad costs with native Facebook posts and likes pictures received?
In this case study I compare the standard costs for a like on a normal posting with the equivalent an average client has to pay to Facebook choosing an Ad posting.
Sure, this is not the best metric a marketeer would choose for cost comparison and business decisions. But it manages to give the immaterial value of a picture a value in Euro. This case study therefor has its inherent limitations. We did our best to address these (see chapter limitations) in a brief and understandable manner.
The problem with Photography: How much value is in the picture? Is it worth the money?
I usually get asked by "potential" clients a lot of things: Usually they don't want to pay, because they usually don't see the value in a photo. For any professional photographer that is more or less easy to tackle. What clients, companies and photographers likewise usually not have, is a real clue what a picture really does to their business success.
How much worth are my photos? As always with any art, the wording "perceived value" gets thrown around. This might work for some well-known artists, but most photographers struggle with it. The problem is: I can not directly relate my photos to a monetary value or a monetary return on investment rate.
So I thought about using the metrics Social Media gives us free of charge and open source. I somehow have a drive for numbers (and not only nature and skiing and photography). So I did a case study about the value of pictures that I made for a client's Social Media accounts.
The facts: Value of Content in Social Media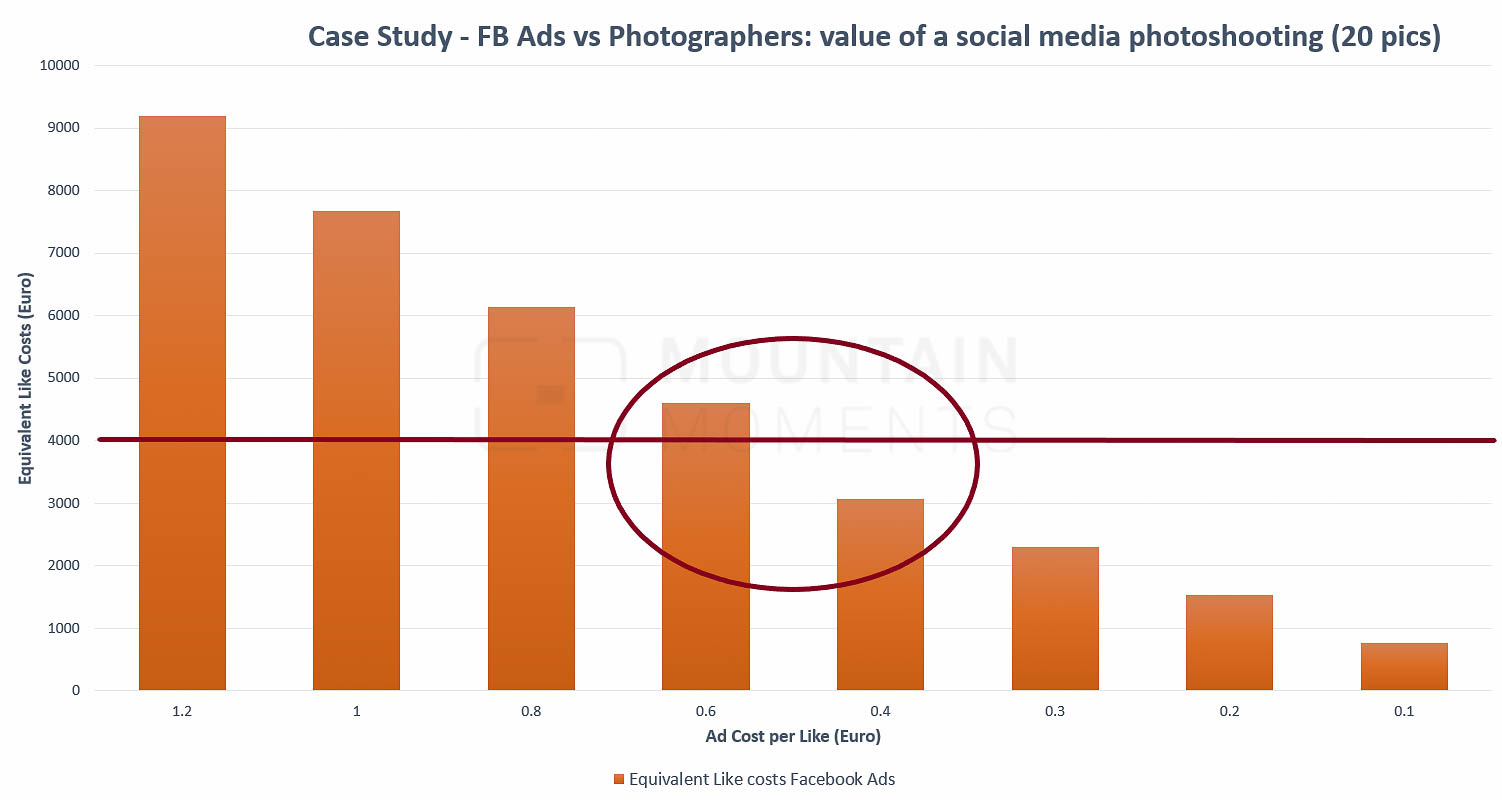 1 Like on Facebook costs in mid-Europe between 0.40 Euro and 0.60 Euro (2016-2018). This means an average like for an Ad on Facebook costs this amount of money between 2016 and 2018 in Germany and Austria. This as an average preice and varies strongly between target groups.
As we do not have access to the Click-Through-Rates, general visibility data, website clicks, conversions, customer value and similar insight metrics we will use the value per like for comparison. See chapter limitations for deeper information.
We believe an average like in the target group for this case study might be higher than average. As we cannot prove this statement sufficiently, we use the aritmethic mean price.
Results Case Study: Value of Photos for Content Marketing
Here are the results for the value of content used in social media in short, explanations and detailed background info below.
Value as Like-Cost equivalent on Facebook
The client was allowed to use 20 photographs from one photoshoot for his social media accounts. In sum he received an attention span with 7665 Likes on Facebook. That's an average of 403 Likes per picture.
Multiplying these 7556 likes with an average equivalent Ad cost per Like of 0.4-0.6 Euro values these likes at 3066-4599 Euro.
Like comparison with other pictures on this account
Pictures from Mountain Moments delivered significantly different results as other pictures in this case. The client used other professional pictures (source: traditional advertising photoshoots) and also amateur pictures. Both categories were for a professional quite easy to differentiate.
Professional photos received in average 183 Likes per picture whereas amateur pictures received only 9 likes per pictures.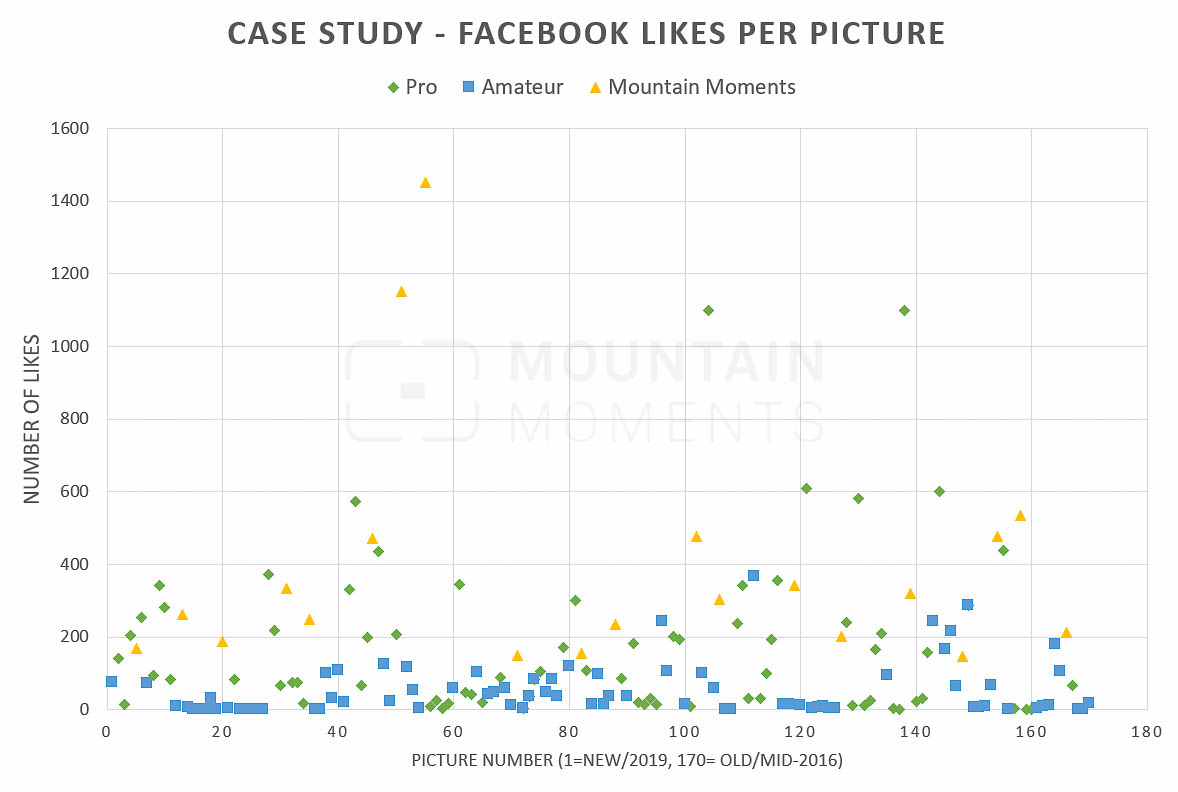 Discussion
First, we see a gap between pictures made from Mountain Moments photographer and other professional pictures from a professional. We think the reason is not the other photographers lack of style or whatever. It's more the different goal of these pictures. The "pro" photographer was a classic staged advertisement shooting. MM did had much more artistic freedom in what to shoot.
We believe the professional photographer had a fixed strategy and CI to follow. We bet that the same photographer with more artistic freedom would perform much better on the likeable-scale.
We think that more authentic pictures specifically made for usage on digital devices is the way to go for businesses and marketeers.
Second, we see a clear gap between professional and amateur pictures. Amateurs usually don't know what a good photograph is. So they just shoot and post whatever comes to their mind without any thinking of how other viewers might react on a specific picture. The good news: Almost anyone can learn it.
If you want to gain attention on Social Media or any advertising channel: Invest in (your) photography. If you do not have the time to do it properly: Get someone with time to learn or someone who knows the photography game.
Key take-aways: Study Social Media Photography: for photographers and Social Media Experts
For businesses: Good photographs may be one oy the best investments for a business, even if used "only on Facebook". Get a good photographer who knows what he/she is doing and trust their experience and intuition. They (usually) know better than you, what might work and what not.
Get a photographer to enhance your visibility and train your marketing team to make great pictures themselves. Get in contact and we train your team in social media photography.
For online marketeers (who think about costs, efficiency, effectiveness and stuff): Maybe hire a professional photographer for every client you take care of. It can save you a ton of work using good pictures and your client can use his spendings more efficiently. Choose someone that fits the clients business style.
If you are a photographer: Use this data and make your clients happy (and maybe share your data with us). Price yourself wisely and play the shitty "maybe i pay you next time reasonably" game. Don't be the cheap guy. Link our study to your peers, thank you.
The limits of this Content Marketing Case Study
General: This is a case study with one client/company in the tourism sector in Austria. I collected the numbers of likes for each picture they used from me and all other pictures they posted on their Facebook wall. The clients profile roughly has 75.000 followers. The data was collected within 3 days and summarizes the number of likes in a period from mid-2016 (when they first started to use my pictures) to when I collected the data in mid-February 2019.
Transferring these results to other business sector or companies or in the future (with ever changing algorithms) might result in total different numbers.
Data: The costs per Like 2017: Austria USD 0.70 (0.62 Eur), Germany 0,58 (0.51 Eur), cost per Like 2016: Germany USD 0.40 (0.35 Eur).
Data source: Marketing Agency Adespresso.com using their data of around 300 Mio USD spent in FB Ads, other marketing agencies), 1.14 USD = 1 Euro (exchange rate from Jan 27th 2019).
Limits: The client used Facebook Ads to boost some pictures (he told us). We do not know which pictures got a paid boost and which not and how much money they invested in this time (client doesnt want us to see this data). I assume the client invested around 100-500 Euro in various pictures, we likely see these "outperformers" in the chart above the 1000 likes mark and maybe a view below. We just don't know.
Results and statistical approach: We only use easy understandable collected data. We focus on sum and arithmetic mean. For this one single data set it does the job in my opinion. We resign using more complex descriptive statistics. Using those would create a somewhat false sense of reliability.
Why only Facebook and not Instagram? As noted above, the client used those pictures also on Instagram and gained 250-2000 likes per picture. The data is somewhat similar, we just didn't collect this data, yet.
Background information about this specific case: I did a photoshoot with quite some artistic freedom – basically i did what i though fits to this company's profile. The other professional pictures came from one or two professional shootings with models and a clear CI strategy. Therefor the photographer(s) was/were more limited to what the customer wanted.
The amateur pictures are a diverse collection of everything what amateur photographers do nowadays. The picture style is clearly different within these three groups.
The photos from Mountain Moments and the other photographers work are clearly visible as professional work (seen from a professional perspective) but with a totally different feel and design style.
Value of Facebook likes: A Like on Facebook does not directly have a specific value. But it can showcase some sort of attractiveness to the viewer.
Facebook likes are not the best option to measure the value of things. But it is the second best possibility to compare value in this case and the best available option. The best option would be to compare the return on investment measured in Click-Through-Rates and website-clicks and/or sales. But as I do not have access to this data, the average cost of a like is a proper measurement factor. At least it gives a rough understanding of how much interest this one picture developed for this specific usage.
Yet, it does not really show the value for the client, it shows how much Facebook would charge for this advertising space.
Notice: Feel free to link to this study. Please ask before using data and/or graphics/text.
Hi, i am Marius, i love exploring the mountains and nature. Friends say, i know the mountains better than most locals, but actually i get lost all the time while photographing ;). Read more about the Mountain Moments Team.
https://mountainmoments.com/wp-content/uploads/2019/06/mm-logo-340-pix-300x138.png
0
0
Marius
https://mountainmoments.com/wp-content/uploads/2019/06/mm-logo-340-pix-300x138.png
Marius
2021-02-19 16:33:29
2021-02-19 17:15:41
Photography for Content Marketing (Case Study) – Why hiring a Photographer for Social Media Content Creation is a good idea.