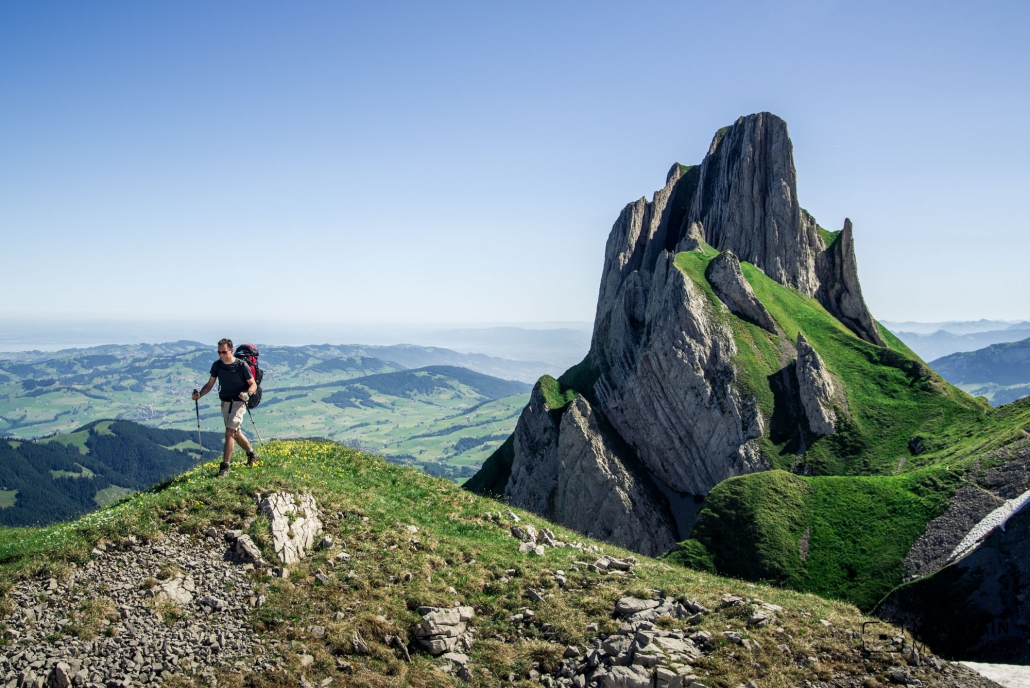 In the northern Alps, you wont find a more beautiful hike then one that leads through the Alpstein massif. Picturesque views, massive granite slabs, idyllically situated mountain lakes and Swiss postcard landscapes – the very finest this beautiful planet has to offer. Mountain moments wishes to share information, directions and the most beautiful vantage points with you so that you can make your current or future holiday as successful as possible!
Located in north-eastern Switzerland, Alpstein is a relatively small mountain massif in the Appenzell Alps. Don't let the word small deter you though because what it lacks in size it definitely makes up for with picturesque features and is one of the most lens-worthy in the entire Alpine region! A handful of mountain railways facilitate access to the region and all kinds of huts and mountain guesthouses sweeten your stay and hiking experience.
The king tour in the Northern Alps: Hiking in the Alpstein Mountains
Every summer, Mountain Moments holds several photo workshops which are focused around this tour. This is one of our most favourite photo-hikes in the Alps. One thing Mountain Moments and all of our previous clients share is that we always leave a tour with a renewed fascination and curiosity for life already plotting our return at we pack up to leave.
Our Königstour/kings tour hikes in the Alpstein massif can be 'tailor-made' to suit climbing experience and fitness level.
We also offer private photo tours here in the Alpstein mountain range – if you want a special photography guide to help you find the best spots and guide you safely through the steeper hikes, please feel free to contact us. If you are already an expert photographer and mountaineer, read on below and maybe you can get a tip or two to help make your next trip through the Aplstein massiv memorable and trouble free. Please also feel free to engage with our community and share your wisdom and past experience in the comment section below.
Alpstein is our favourite hike in the Northern Alps. To make the most out of this region, the hike we propose takes 3 to 4 days, requires sure-footedness and a head for heights. The trails here have been excellently developed and ar rope insured at all the appropriate places.
The Royal Tour of the Northern Alps – Hiking in Northeastern Switzerland
The Alpstein massif is not stingy with its attractions: steep granite slabs, deeply cut valleys and picturesque mountain lakes – particularly the outstanding views of Lake Constance, the picturesque pasture lands of Appenzellerland and the ancient Rhine Valley.
If the Alpstein massif didn't exist, it would have to be invented to restore balance to the universe.
The region is well connected by mountain railways and many hikers find this feature particularly useful for a quick weekend getaway.
In contrast to many ski regions in Austria, nature here is still quite untouched and raw: no ski slope corridors that destroy the vegetation, no après-ski temple, no multi-storey car park, no snow cannon armies, storage ponds and other sins of alpine ski tourism.
A seasoned, east Alpine hiker will immediately notice the that cultivation and management of alpine pastures here is still much alive. Of course, the mountain inns and alpine pastures would have an extremely difficult time without tourism and state subsidies but the human use of nature fits into a relatively harmonious picture here none the less. Yes, sometimes even in a very kitschy picture.
Coming around every second corner, you expect Heidi to come skipping over the hill, chasing the goat herding Peter – talking of goats: half a litre of goat milk is cheaper on most alpine pastures than half a litre of water, even at some of the best known hotspots. Reaching deep into ones pocket, 13 Swiss francs deep, for a bottle of still water can be common in some places. Here simple items such as water and dry bread quickly become a luxuries.
You will find an overview of the mountain guesthouses in Alpstein by following this red link. You can also find the Alpenvereinshütten at the SAC ( Schweizer Alpen-Club).
Directions: Hiking the KING's TOUR
The King's tour leads in a wide arc around the Alpstein massif. Starting at the Brühlisau cable car parking, we hike up Hohe Kasten mountain, along the easy but steep ridge path to the Stauberen Guesthouse. We continue over the photogenic Saxer gap.
We then pass the Bollenwees guesthouse and travel to the 5 peaks of Widderalpstock and then on to the Rotstein pass. Further over the exposed but excellently rope insured Lisengrat mountain pass to Säntis, the highest peak in the Alpstein massiv.
Over the town of Rosegg (mostly over snowfields in early summer) and into Öhrligrueb, and further over the Lötziälplisattel to Schäfler mountain. From here to Seealp lake and Wasserauen railway station via the Ebenalp and Äscher guesthouse.
Information
To avoid dissapointment, please remember to book this tour as soon as possiblethrough our website here: We offer group tours as well as exclusive private Tours in this region.
How to get there: By car or train/bus to Brühlisau/Wasserauen. We reccomend use of public transportation in terms of being friendlier to nature.
Requirements: You need to have a good level of fitness and at least medium experience hiking – the trails are rocky and steep. Sure-footedness and a head for heights are mandatory. That being said, all paths are marked and extremely well secured.
Equipment you will need: Good hiking boots, rucksack, change of clothes, 2-3l Water (refillable at huts) and a hut sleeping bag. We reccomend around 80-100 swiss francs per day.
The most beautiful vantage points in Alpstein
Hoher Kasten mountain
Saxer Gap/Saxer Lücke
Bollenwees guesthouse
Fancy a photo hiking tour here in Alpstein? We offer group tours as well as exclusive private tours in this region. Don't hesitate to book this tour now. Most people choose the 3-day-tour, it's the best way to increase chances for weather suitable for photography as well as to see all the highlights of this amazing region.
Lisengrat at Säntis mountain
Schäfler mountain
Äscher Guesthouse
Have you completed this hike or taken a similar tour? Share your experiences and pictures with other readers. Write a comment with your best tips or send us your best pictures, we will definitely publish them here.
Hi, i am Marius, i love exploring the mountains and nature. Friends say, i know the mountains better than most locals, but actually i get lost all the time while photographing ;). Read more about the Mountain Moments Team.
https://www.mountainmoments.com/wp-content/uploads/2019/07/mountainmoments-DSC_1603.jpg
1335
2000
Marius
https://mountainmoments.com/wp-content/uploads/2019/06/mm-logo-340-pix-300x138.png
Marius
2020-09-24 13:38:41
2020-09-24 13:41:01
King Tour in the Northern Alps: Hiking in the Alpstein Mountains