CApTURE A MOMENT IN ALLGAEU: OUR 9 MOST FAVORITE SPOTS
With this article, we wish to help you seek out your own, personal moments in the Allgäu region of southern Germany, by sharing with you our 9 most favorite photo spots. Whether you are already in Allgäu and looking for some location tips or you are planning your next photography trip in the south of Germany, we hope to arm you sufficiently for wowing your Instagram followers as well as help you discover the many unique and hidden secrets the Allgäu region has offer.
The Allgäu alpine region is one of the most picturesque regions in Germany. Gentle meadows, flanked by the steep Allgäu Alps, offer wide and wonderful views of southern Germany to anyone that takes the challenge of climbing them. A sunrise or sunset from any of the many breathtaking peaks can be especially unique and rewarding.
Hiking to the Insta famous Schrecksee
The Schrecksee is considered to be the most beautiful mountain lake in the German Alps. There is a lot of activity here, despite the long hike – plan a full day of mountain hiking! The tour starts in Hinterstein (can also be reached by bus). Those who are fit can also walk across the Vilsalpsee and visit it right away. With this long hike you can capture several photo spots in the Allgäu at once.
Important: Schrecksee lake is located in a landscape conservation area! Please stay on the paths to avoid destroying any more of this amazing nature. Do not swim in the lake with make-up or sun cream on your skin. It is strictly forbidden to spend the night or sleep in the landscape protection area/nature conservation area (i.e. no "emergency bivouac"). It is monitored and one will face prosecution. Expect a fine of up to 5000 Euro.
Photography at Neuschwanstein Castle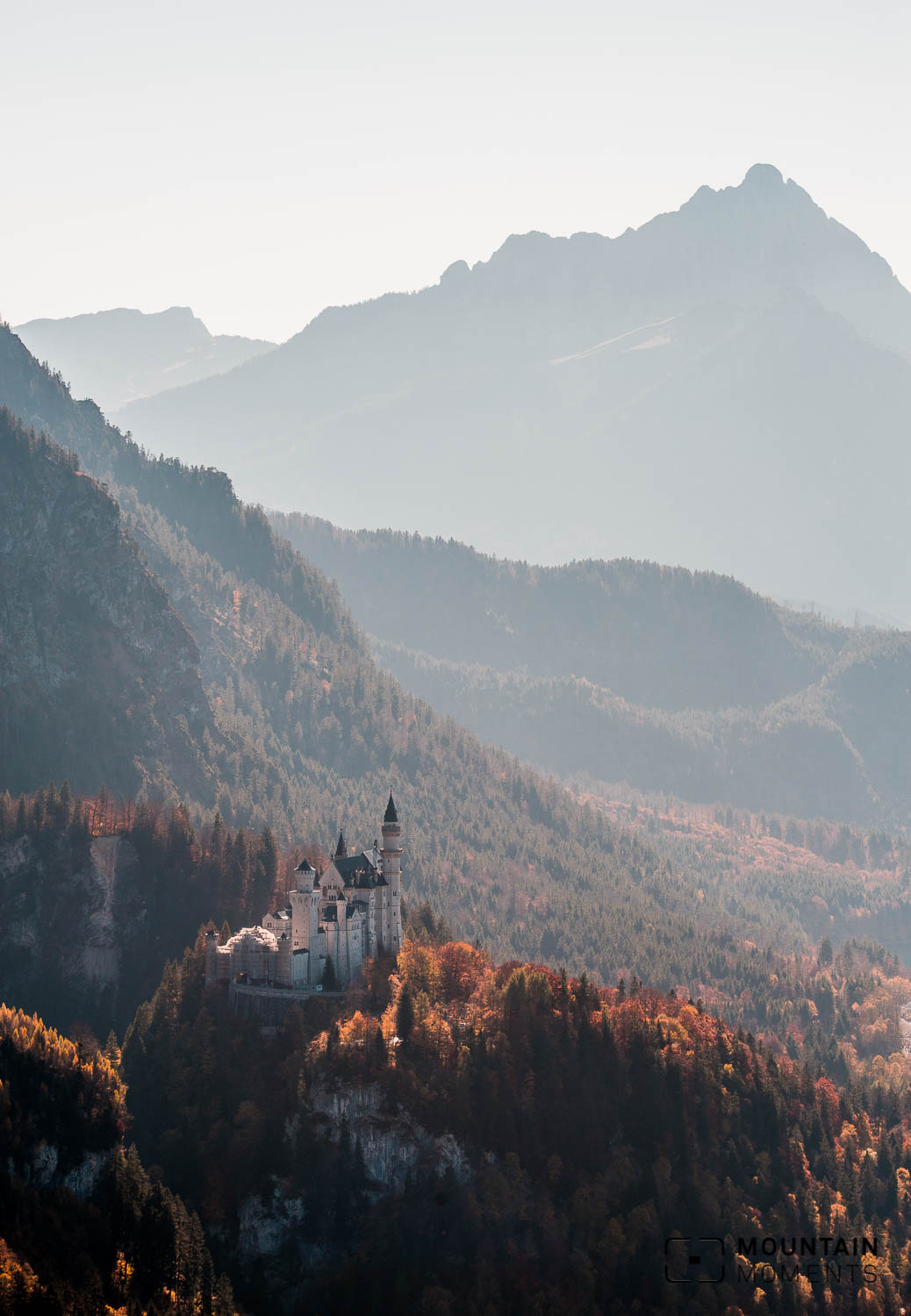 Germany is 'the' country of castles and palaces. Castle Neuschwanstein, the fairytale castle par excellence, is located in the Bavarian foothills of the Alps and attracts hundreds of thousands of visitors every year. Through out the world, the castle's charming features have been replicated and copied over the years.
Yes, Germany is teeming with tourists, and photographically, you will discover no new territory, no matter from which angle and location you take your pictures. Nevertheless, the views of the castle, from almost all sides, are each a cultural master piece, unique in the world. The most popular photo spots are from the Tegelbergbahn cable car and from the especially famous Marienbrücke (well signposted and not to be missed).
Moutain moments tip: including Schwangau village's lush meadows into your compostion.
Especially in autumn, when the first fresh snowfall is already in the higher regions of the Alps, castle Neuschwanstein unfolds its fantastic character onto your landscape photography.
We hold one of our most popular photo workshops near here. The workshop includes some hiking and an overnight stay in a traditional hut. If you are looking for a real photography/hiking adventure, feel free to come chat with us by clicking on this link to our website. The Bavarian foothills of the Alps are our favourite region in Germany – not without reason.
The Bavarian region of Allgäu: photography locations hand-picked by a mountain professional
The tips we give you here are ideal for a week or weekend of landscape photography in Allgäu – a mountainous region of Bavaria. Nevertheless, please also consider the environmental aspect: Pleasde try to save energy on your journey, travel in carpools, or as far as possible by public transport. Those who travel particularly far should consider staying on location for several days rather than just a weekend. In our experience, having sufficient time is one of the most important design tools in great photography.
Geroldsee: a secret tip for landscape photographers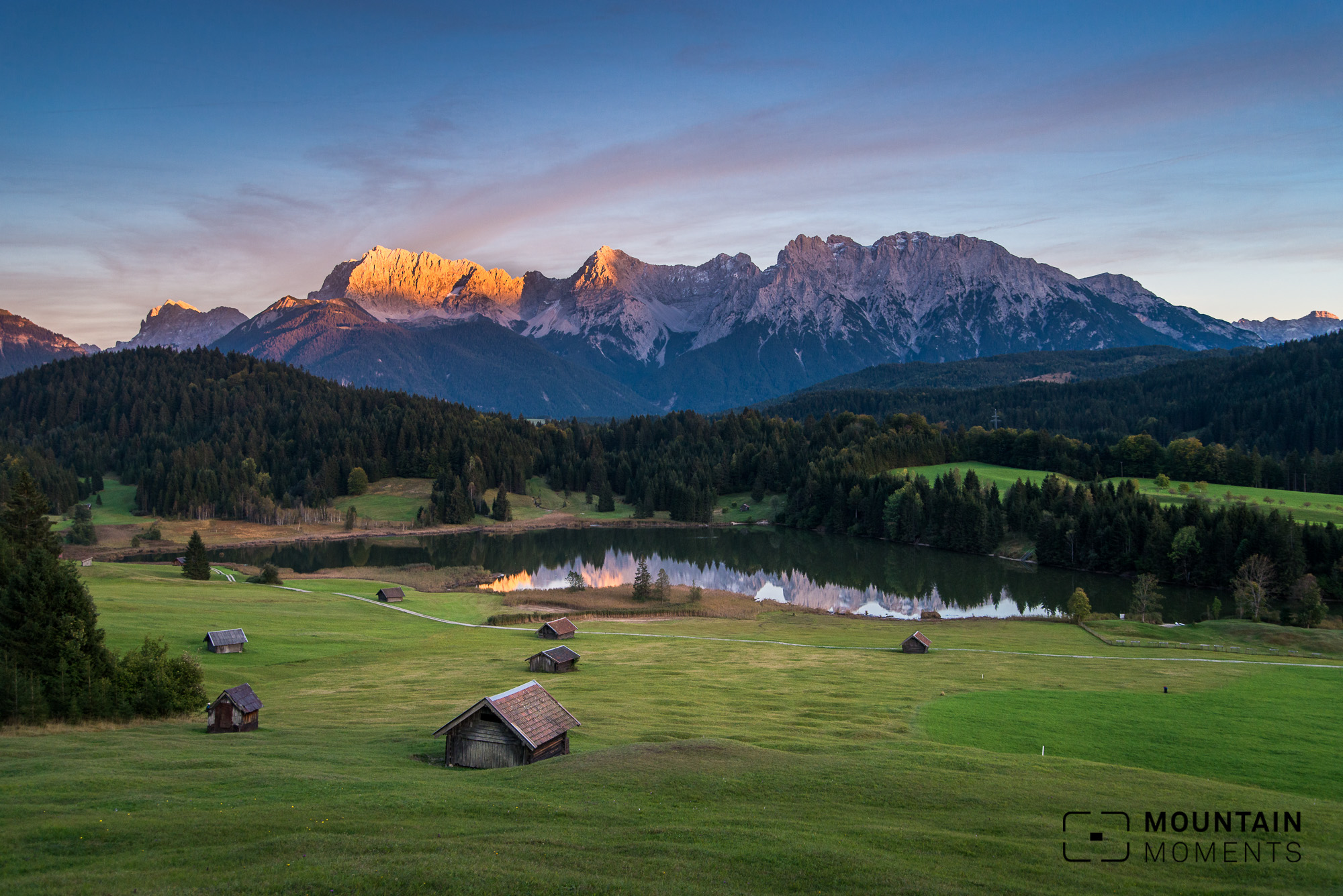 Geroldsee lake is our favourite place among the Bavarian and Alpine lakes. A classic postcard motif with alpine huts, a perfectly formed lake and a view of the impressive Karwendel massif.
Important: this photo spot is on private property! When taking photographs here, please take care of the environment and property. Do not enter if the grass has not yet been mowed!
Nebelhorn and Fellhorn mountain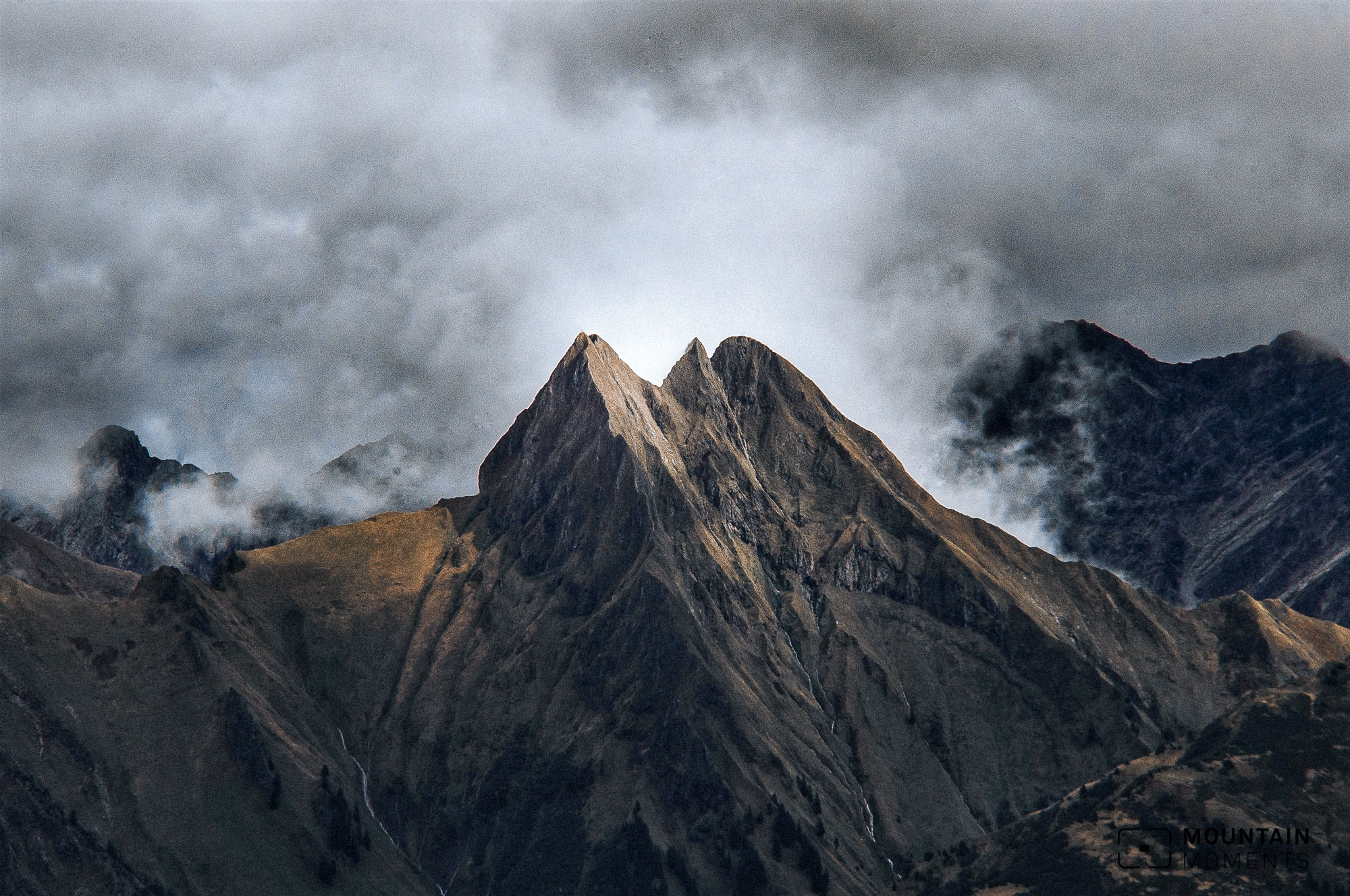 In summer, these two well-known skiing areas near the town Oberstdorf are always worth a trip. The steep, grassy slopes offer a view typical in the Allgäu. Both in sunshine and erratic weather, it is possible to capture unique pictures which one would not usually associate with Germany.
Mountain moments tip: remember to take a telephoto lens with you.
The Bavarian town of Oberstdorf: Ski jumping and Freibergsee lake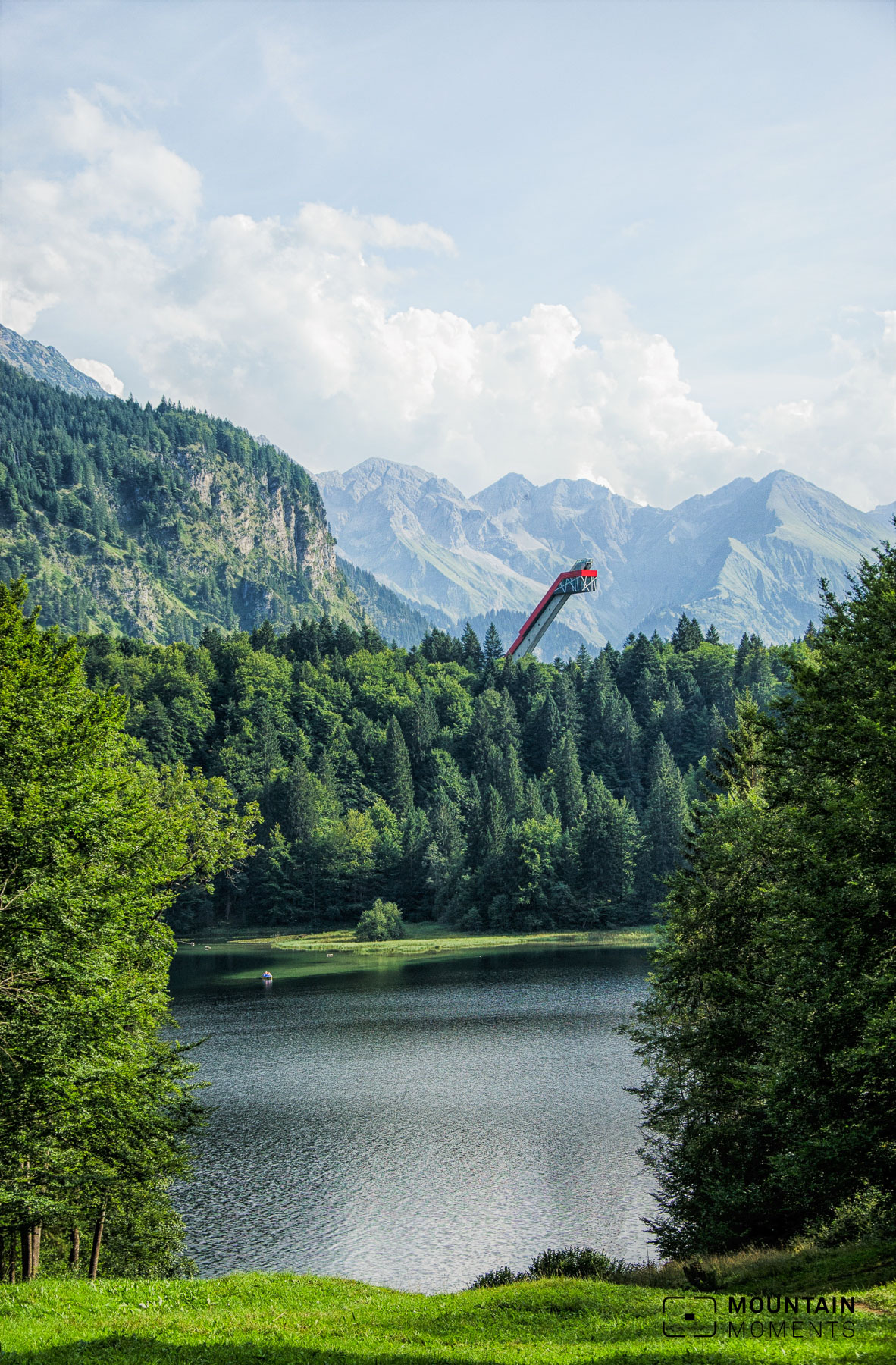 On very hot summer days, a cool dip in the waters of Freibergsee is highly recommended. On the shore you have a good view of the famous ski jump. Here you can take an unusual picture, because the tower of the ski jump towers far above the forest.
Tip: Take a picture portrait instead of landscape.
Photographic immersion in Breitachklamm gorge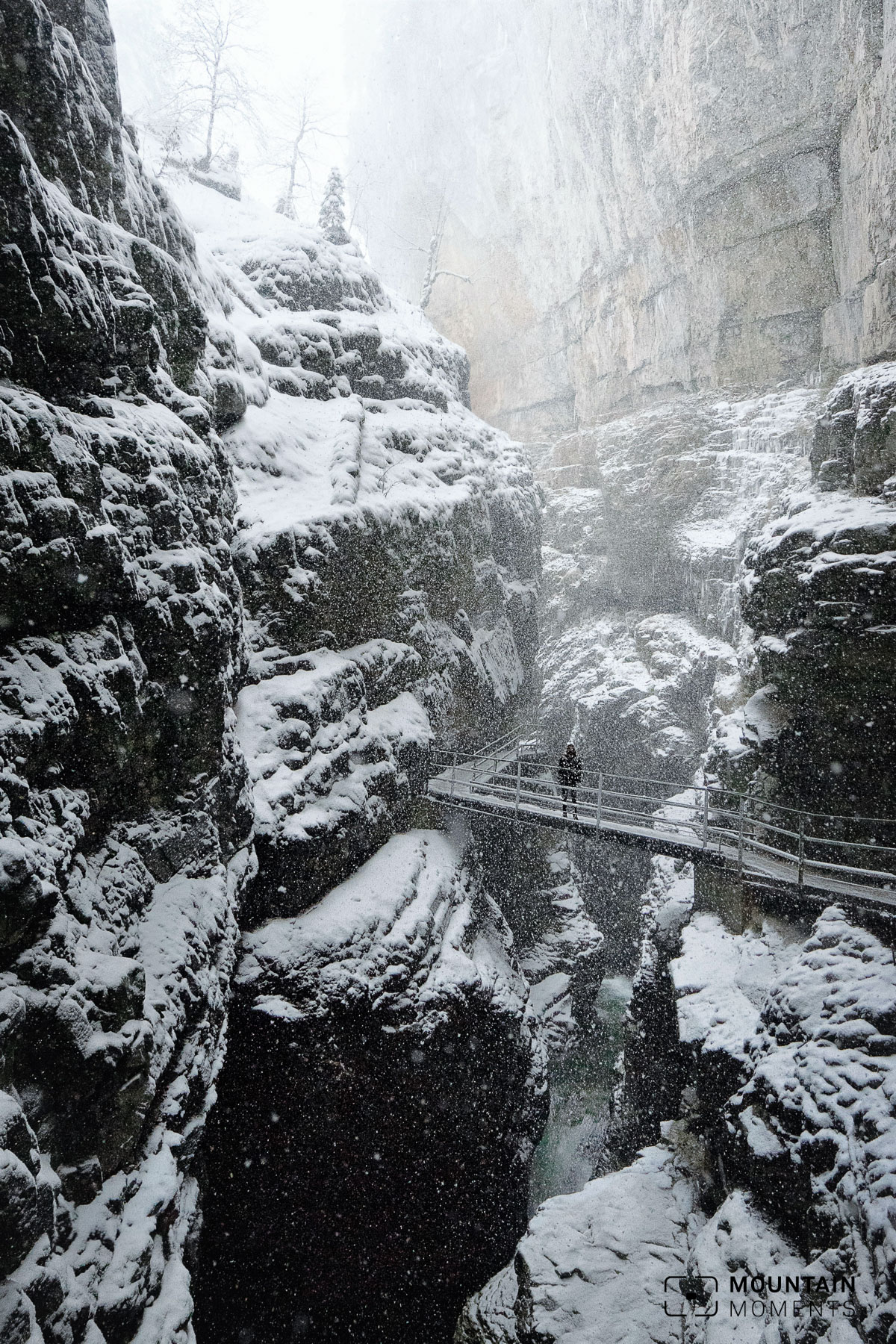 In the Bavarian Alps, water has always sought its way over millions of years. Grain by grain, the flowing water gnaws small rivulets into the mountain landscape, finally forming deep incised valleys in the rock. This is also the case with Breitachklamm gorge. The gorge is particularly suitable for photography in bad weather offering various mystical moods.
Mountain moments tip: The bridge over the gorge offers very good possibilities for some exciting picture compositions.
What are your personal highlights in teh Allgäu region? Share your photos in the comment section or use #mountainmoments in your social media channels!
Hi, i am Marius, i love exploring the mountains and nature. Friends say, i know the mountains better than most locals, but actually i get lost all the time while photographing ;). Read more about the Mountain Moments Team.
https://www.mountainmoments.com/wp-content/uploads/2020/08/web_mountainmoments-5430.jpg
1335
2000
Marius
https://www.mountainmoments.com/wp-content/uploads/2021/05/web_mariusschwager__2000x-300x138.png
Marius
2020-09-01 12:23:21
2020-09-01 12:28:05
CAPTURE A MOMENT IN ALLGAEU: OUR 9 MOST FAVORITE SPOTS